12 Benefits of A+ Certification
1. Customer Confidence: Your A+ certification demonstrates that your agency is certified for having met the stringent standards of the Home Care Standards Bureau. This third-party certification assures families, community partners and partner facilities that they are choosing the right home care agency and will make a significant difference in your agency being selected over your competitors.
2. Free Caregiver Education: All of your caregivers and staff have free access to hundreds of online caregiver education courses provided by CaregiverList, the nation's leading provider of caregiver education. This benefit provides you with an efficient and well documented training program, keeping your agency in compliance with your state regulations and reducing the workload on your human resources department. And, caregivers love it!

3. Unlimited Access to CareShare360: Our proprietary innovative platform allows you to keep a finger on the pulse of your agency through unlimited, fully customizable feedback surveys that you can send to clients and their families, caregivers, community partners and referral sources.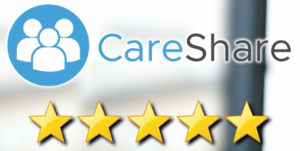 4. Targeted Google, Facebook, Yelp, Glassdoor, Indeed & LinkedIn Reviews: CareShare 360 utilizes our powerful EZReview system to allow your agency to request great reviews from clients, referral sources and caregivers alike.  It's fast, easy and effectively contributes to your online reputation management as a way to attract new clients.
5. Increased Referrals: The A+ certification builds confidence and credibility with your referral sources and partners such as assisted living facilities, rehabilitation centers, churches, social workers, elder law attorneys, and community organizations. Having a third-party certification enhances your credibility especially with referral sources who have a fiduciary responsibility.
6. Customized Video: You will be provided with a customized video that you can use on your website and social media sites. You can also share the videos with families considering using your agency for services.
7. Full Color Brochures: You will receive an initial free supply of 250 full color tri fold brochures personalized with your agency logo, contact information and a concise explanation of the HCSB certification standards you are meeting. Plus, holders will be included for your referral partners to display the brochures in their offices.
HCSB Brochure Sample (PDF)
8. Exclusivity: HCSB is building an exclusive national network of certified agencies. After an agency is certified in a city (with a population of 300,000 or less) we stop actively seeking other agencies in that city.
9. Powerful Closing Tool: A twenty-page OFFICIAL COMPLIANCE REPORT about your agency including copies of your insurance, HCSB application, audit sample, Code of Ethics and Standards and more. This will make a significant difference for your agency when you show the report to families and community partner organizations.  We also send you a Framed Certificate showing your agency is A+ certified and provides one extra certificate to carry with you when meeting with families and discharge planners.
Compliance Report Example (PDF)
Certificate Example (PDF)
10. Caregiver Hiring and Retention: The combination of being A+ certified and our free online caregiver education helps you attract and keep caregivers longer.  Improved communication with caregivers through our online platform helps caregivers feel appreciated and valued as a part of your team
11. Co-branding on Your Website and Ours: HCSB participation allows you to display on your website and marketing materials that your agency has met our stringent standards and has been certified with the coveted A+ certification.  We build a custom agency landing page on our website linking between your website and our agency locator, creating a seamless flow for prospective clients searching for the right Home Care agency in your city.
12. Framed Certificate: You will receive a framed certificate showing your agency is A+ Certified.
Bonus Benefit:  Work with these Vetted Vendor Partners and receive special HCSB Pricing options
Your membership includes access to this collection of vetted professional Home Care Resources. Please use these services with confidence.

The Internet is full of cheap background check reports – but ours are truly different. Can you compare a Mercedes to a Hyundai? It's like comparing apples to oranges. Our reports are not just generated by a government database name search. Unlike the others, ours are reliable accurate investigator produced documents that you can be confident are correct. You will easily see the difference.